Do children need sunglasses? Yes.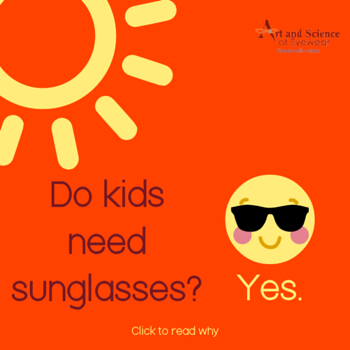 Sunglasses for children are a critical part of a parent's defense arsenal for protecting children's eyes from UV exposure. (Not convinced? Read this article.)
The key is to make sure that your child is wearing real sunglasses with proven UV protection.
Buy Real Sunglasses for Children – Not Toys
As we write this it is early May and our amazing sunny California weather is in full form. It's the time of year where lots of stores seem to stock what looks like sunglasses for children. Beware, though – these end-aisle sunglasses are not necessarily real sunglasses designed to protect your children's eyes. Many of these are "novelty" glasses – toy glasses that can be fun to wear but don't block UV rays sufficiently, if at all.
How do you tell the real sunglasses for children from the toys?
The best UV-protecting real sunglasses for children have the following characteristics:
Sized, shaped and designed specifically for children's faces
Regulated as a medical device by the Federal Drug Administration (FDA)
Block 100% UVA and UVB light (Look for a tag that says 100% UV 400nm)
Made with lens material that is impact and shatter resistant polycarbonate
Offer distortion-free optics
By contrast, novelty (toy) eyewear designed to look like sunglasses are not regulated by the FDA. They are typically small in size but not designed specifically to fit a child's head.
These novelty items are regulated as toys for choking and hazardous material risks by the Consumer Product Safety Commission — and do not come under the purview of the FDA. While often cute, toy glasses have the optics of a toy. UV protection is not required by the FDA.
Where to Buy Real Sunglasses for Children
You will be able to buy real sunglasses for children in both prescription and non-prescription options all year round. Start by looking for optical retailers that sell prescription kids eyewear. Even though your child may not need prescription sunglasses, these optical retailers typically sell UV-blocking non-prescription sunglasses for children, too.
Be aware, though, that not all optical stores and eye doctors cater to children's eyewear needs to the degree that Lafayette's Art and Science of Eyewear does. We are a full-service dispensing optical boutique that has all things eyewear for all ages — and a strong reputation for a vast children's selection.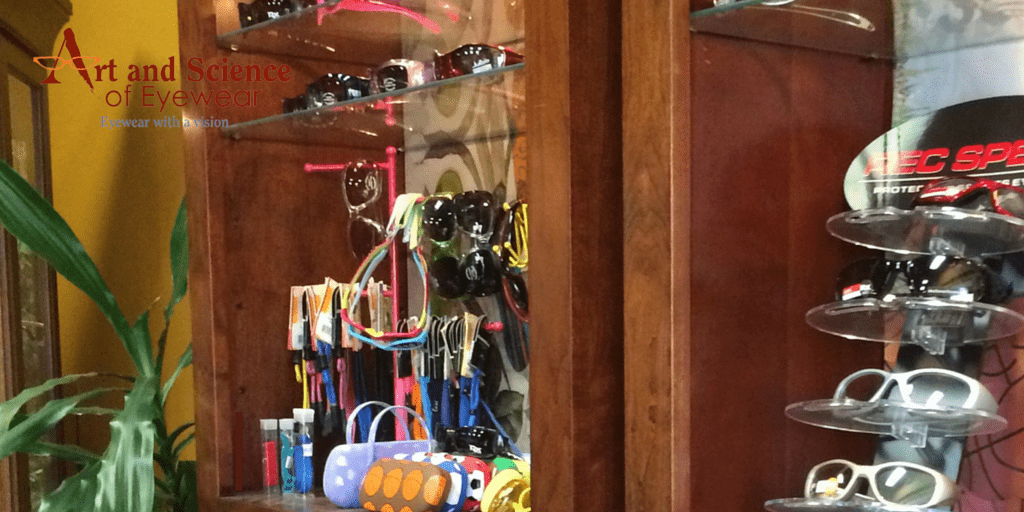 You'll find our children's selection strong, with options for both prescription sunglasses and non-prescription sunglasses sized and in styles for kids of all ages, including toddlers. The photo above is just a sample of some of our sunglasses for children, youth sports protective eyewear and child-sized accessories. What's important to know is there is much more to consider, and we only stock 100% UV-blocking sunglasses.
[Infographic] Sunglasses for Kids: Real vs. Toy
The infographic below highlights the key differences between sunglasses that are designed to protect a child's eyes and novelty sunwear. We hope you find it helpful. Please feel free to post comments below.
(Click here to enlarge the Children's Sunglasses Infographic)